Ambil Foto Prewed di Pantai, Pasangan Ini Hanyut Terbawa Ombak


Menghadapi hari pernikahan, tentunya pasangan perlu memperhatikan banyak hal. Salah satunya adalah menentukan lokasi foto pre-wedding yang ciamik untuk dipamerkan di pesta pernikahan sekaligus dipajang di rumah baru nanti.

Namun pilihlah lokasi yang aman, jangan seperti pasangan yang satu ini. Sesi pemrotetan terpaksa dihentikan ketika pasangan ini hanyut terbawa ombak di pantai California.

Percikan ombak yang menabrak bebatuan memang jadi latar belakang sesi foto mereka, namun celakanya satu gelombang besar menyapu pasangan itu ke laut. "Astaga!" teriak orang yang merekam kejadian tersebut.


TO THE RESCUE: Lifeguards saved a wedding couple that was swept into the Pacific Ocean while taking photos in Southern California. https://t.co/mScYDkMWmh pic.twitter.com/RTvJQmzFC2

— ABC News (@ABC) July 1, 2020

Orang-orang yang menyaksikan peristiwa itu segera memanggil layanan darurat untuk menolong pasangan tersebut. Tak lama kemudian, penjaga pantai dibantu pemadam kebakaran datang membantu mereka kembali ke pantai.

Tampak dalam video itu, dua penjaga pantai dengan pelampung terlihat menyelamatkan pengantin wanita dari air dan kemudian membawanya ke pasir. Meskipun gaunnya basah dan dalam keadaan syok, dia tampak baik-baik saja saat duduk tegak dengan perangkat alat bantu keselamatan di lehernya.

Sementara itu, pengantin pria terlihat sudah berbaring dalam pelukan penjaga pantai, sambil berusaha mengatur napasnya.

Belum diketahui identitas dari pasangan tersebut, namun keduanya dilaporkan pulang dengan selamat tanpa sedikit pun terluka.

Banyak warganet berkomentar dan menyayangkan insiden itu terjadi. Ada yang menyarankan agar lebih hati-hati dan memperhatikan jika bebatuan itu basah, karena merupakan pertanda ombak dapat menjangkau titik tersebut.

Warganet lainnya bersyukur penjaga pantai datang dengan cepat untuk menyelamatkan nyawa mereka.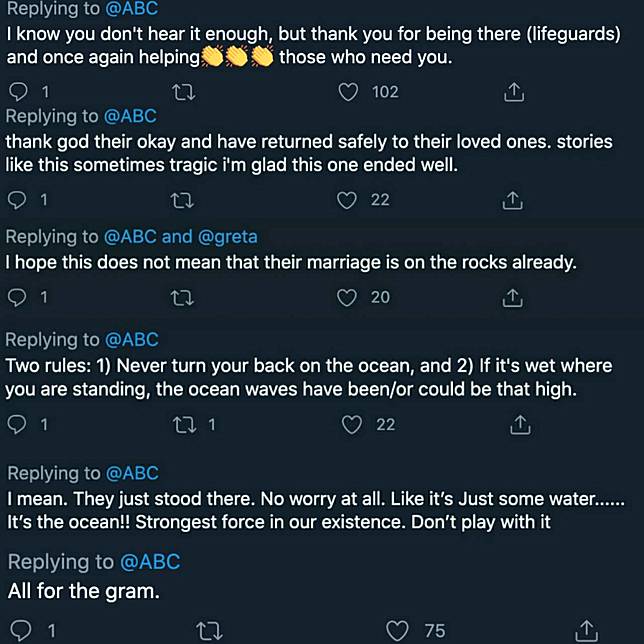 #TrendingNow