Mantan Penyanyi Cilik Maissy Jadi Dokter Garda Depan Corona saat Hamil, Kini Baru Saja Melahirkan
Masih ingat dengan penyanyi cilik Pramaisshela Arinda atau yang lebih dikenal dengan nama Maissy?

Tak lagi berkarir di dunia hiburan, Maissy kini telah menjadi seorang dokter.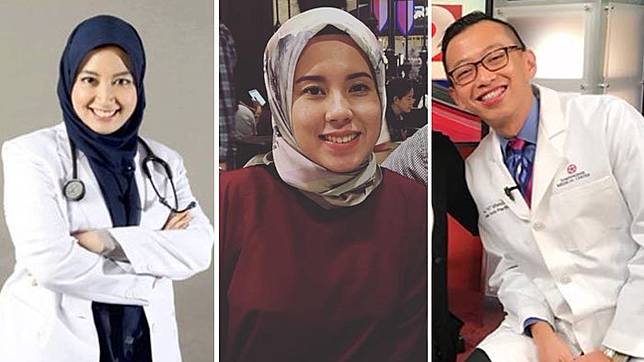 Maissy Pramaisshela, Rimarsha Nugrafitra dan Alfandy (TribunStyle/Kolase)

Di masa pandemi corona ini, istri dari pria bernama Riky Febriansyah itu juga berjuang bersama tim medis untuk melawan corona.

Maissy bekerja sebagai garda terdepan corona di IGD Rujukan Covid selama masa pandemi ini.

Bahkan, Maissy harus berjuang dalam kondisi hamil besar.

Beruntung, meski menghadapi risiko besar, Maissy dan bayinya sehat.

Belum lama ini, sang bayi akhirnya lahir ke dunia.

Melalui Instagramnya, Maissy lantas menulis curhatan panjang tentang perjuangannya selama hamil hingga melahirkan.

Berikut cerita yag ditulis Maissy:

"Alhamdulillah..

Welcome to the world anggota "Three Muskeeters"ku ,

Kalandra Azghan Sadawira Riky Putra , Penerang Masyarakat yang Setia dan Tidak Kenal Takut.

Meski banyak halangan,rintangan dan cobaan yang Manda dan Adek harus lalui selama Adek masih di perut Manda..

mulai dari paniknya Manda pas tau hamil krn benar2 g ada persiapan sama sekali

dan takut Adek tdk mendapatkan mutrisi dan persiapan kehamilan yg baik,

sampe usia kehamilan 30 minggu Adek mau berjuang sm Manda di IGD Rujukan COVID

meskipun harus pake APD yg sempit dan perut offside smp harus request APS merk tertentu yg jumbo sehari sblm jaga..

dan di akhir2 kehamilan banyak sekali cobaan yang menurut Manda adalah

cobaan terberat sehingga Adek harus ikut merasakan apa yg Manda rasakan dan rasa putus asa yang hampir saja Manda rasakan.

Tapi melalui itusemua Adek tetap kuat mendmapingi Manda,

menjadi sumber kekuatan tambahan Manda disaat semua energi Manda hilang

dan menjadi pengingat tujuan hidup Manda untuk selalu berserah kepadaNya sang Maha Pencipta.

Dan Manda yakin Adek Azghan insyaAllah akan menjadi cahaya harapan di tengah banyaknya kesulitan

baik utk keluarga dan org2 sekeliling Adek Azghan, dan semoga Azghan selalu menjadi org yang setia kepada kebenaran,

keluarga,kebaikan dna tidak kenal rasa takut dalam menghadapi halangan yg menghambat cita2 mulia Azghan

dan percayalah Allah akan selalu senantiasa mendampingi dan meridhoi

jalanmu anakku sayang selama Azghan memperjuangkan kebaikan.

Sehat selalu Azghan, insyaAllah Manda yakin kehadiran Azghan adalah pelengkap dari Allah

agar keluarga kita semakin kuat menghadapi semua

dan menjadi keluarga yang selalu senantiasa ingat dan meminta ridho dariNya.

Terima kasih ya Allah atas karuniamu memberiku 3 malaikat kecil yang shaleh.

Terimakasih Adek Azghan sudah mengajarkan banyak hal selama Manda mengandungmu.

Waktunya kita berpetualang bersama Mas Ghibran,Mas Dastan,Manda dan Yanda di dunia ini

Bismillahirrahmanirrahim…" tulis Maissy di keterangan postingannya.

Selamat untuk Maissy!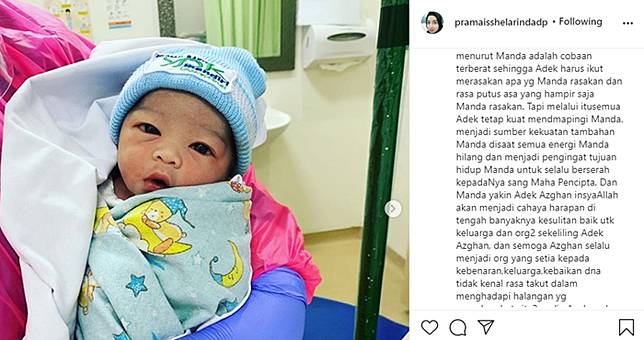 Instagram @pramaisshelarindadp

Sebagian artikel ini telah tayang di Tribunsolo.com dengan judul Mantan Penyanyi Cilik Maissy Pramaisshela Baru Saja Melahirkan Anak Ketiga, Intip Potret Bayinya Artikel Asli