Setiap Wanita Kulit Putih di AS Picu Kontroversi Selalu Dijuluki "Karen", Kenapa?


Oh, when Karens take a walk with their dogs off leash in the famous Bramble in NY's Central Park, where it is clearly posted on signs that dogs MUST be leashed at all times, and someone like my brother (an avid birder) politely asks her to put her dog on the leash. pic.twitter.com/3YnzuATsDm

— Melody Cooper (@melodyMcooper) May 25, 2020

Nama wanita bernama Karen sering disebut dalam video viral yang memicu kontroversi seperti terlihat di atas. Jika kalian ingat, video tersebut sempat viral ketika wanita kulit putih itu memanggil polisi ketika ditegur seorang pria kulit hitam karena anjingnya dibiarkan berkeliaran tanpa tali.

Perempuan itu melaporkan ke polisi merasa keselamatannya terancam. Aksi yang diduga kuat rasis itu viral dan memancing kemarahan netizen.

Perempuan itu jadi bahan pembahasan di media sosial, karena namanya masih belum terungkap, warganet sepakat memangilnya KAREN. Belakangan diketahui namanya Amy Cooper, namun nama Karen sudah melekat pada dia dan aksi absurdnya.

Singkatnya, KAREN adalah julukan yang dilekatkan kepada perempuan yang bertindak semena-mena dan rasis. Nama ini lekat dengan dengan perempuan berkulit putih.

Padanan kata ini di Indonesia yang paling dekat adalah "emak-emak". Konteks "emak-emak" ini misalnya dipakai saat mengomentari ibu pengendara motor yang menyalakan sen kiri malah belok kanan.

Kembali ke Karen. Simak saja tagar #Karen di Instagram yang bakal menampilkan lebih dari 700 ribu posting foto dan video menampilkan wanita kulit putih bersitegang dengan orang lain.

Ulahnya bakal membuat kalian menggelengkan kepala. Bahkan, ada sebuah akun @karensgoingwilds yang dibuat khusus untuk mengunggah semua hal berkaitan dengan tingkah laku wanita kulit putih yang egois dan sok tahu.

Sebagai contoh adalah seorang perempuan yang mengamuk karena tak boleh masuk ke supermarket karena datang tanpa memakai masker. Terbaru adalah kasus Amber Lynn Gilles asal San Diego mengadukan barista Starbucks yang enggan melayaninya karena ia enggan mengenakan masker.


Hi Lenen. Nice to meet you brother. 😂❤✊🏽
Like what did she think? 🤣 pic.twitter.com/rb3W8A1TtK

— StanceGrounded (@SJPeace) June 24, 2020

Bagi orang yang menerima kemurkaan Karen maka kejadian itu tidaklah menyenangkan. Namun, bagi orang lain yang melihat video viralnya di media sosial, insiden itu menjadi hiburan. Bahkan dikabarkan ada orang yang mengenakan kostum dan berdandan sebagai "Karen" pada pesta Halloween!


Warganet lainnya ada yang membuat 'Karen starter pack', yang menurut banyak orang adalah seorang wanita kulit putih memakai kacamata hitam, mengenakan tas pinggang, dan celana jeans pendek.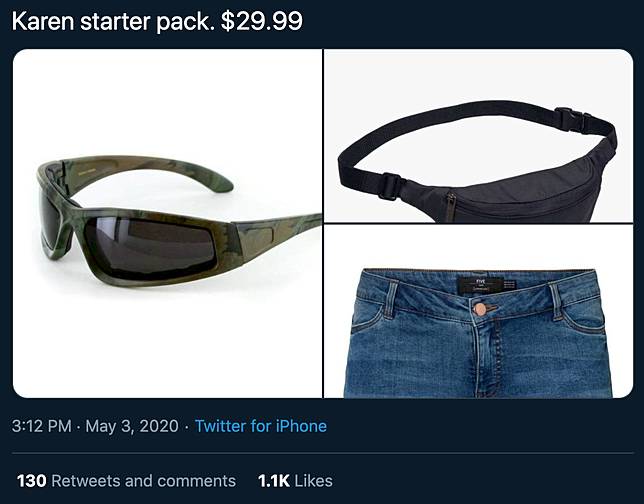 Netizen lainnya yang lebih jeli memperhatikan bahwa seorang Karen cenderung memiliki satu gaya rambut yang sama. Potongan rambut yang dinamai "The can I speak to the manager haircut", menyindir jurus jitu berupa ancaman jika keinginannya tak dikabulkan oleh seorang karyawan toko yang tak bersalah.

Meme ini sudah ada sejak 2014, karena bukan belakangan ini saja wanita kulit putih asal AS bertindak kasar dan tidak sopan. Tren meme ini semakin terkenal seiring bertambah banyaknya peristiwa seorang "Karen" meledak di tempat umum, didokumentasikan dan menjadi viral di publik.

Karen identik dengan karakter wanita yang konon tak takut berkonfrontasi, ia merasa selalu benar dan keinginannya harus dituruti. Ia tak segan mengamuk dan berbuat onar jika tak dipenuhi maunya.

Menurut Apryl Williams, seorang asisten profesor bidang komunikasi dan media di University of Michigan, banyak wanita kulit putih merasa mereka superior karena mengira memiliki status dan peran sentral di masyarakat. Namun lelucon yang dilahirkan dari meme itu juga membuat mereka tak kunjung tobat.

"Di satu sisi, ada baiknya menanggapi hal ini dengan humor. Namun lelucon atau menutupi fakta bahwa para wanita ini pada dasarnya terlibat dalam kekerasan dan para Karen di luar sana tak merasa mereka bersalah atas kelakuannya itu," jelasnya.

Menurut sejumlah orang, cara agar tren Karen ini berhenti adalah untuk bertindak secara tegas sebagai masyarakat hingga membuatnya malu dan sadar akan tindakannya yang salah. Namun ada juga pihak yang berpikir untuk tidak meladeni konfrontasi dari seorang Karen, karena hal itu hanya akan memuaskan keinginannya untuk berkelahi.

Kira-kira apa yang kamu lakukan ketika dihadapi dengan seorang Karen? Yuk share di kolom komentar!

#TrendingDunia