Viral Pria Kisahkan Ketegaran Pacar yang Bola Matanya Diangkat karena Kecelakaan


Sebuah kisah tragis sekaligus haru dibagikan oleh Ariq, pemilik akun @nabimusaa. Ia membagikan sebuah kisah kecelakaan yang ia alami saat membonceng kekasihnya di Cikalong Wetan, Kabupaten Bandung Barat. Utasnya disukai lebih dari 64 ribu pengguna Twitter.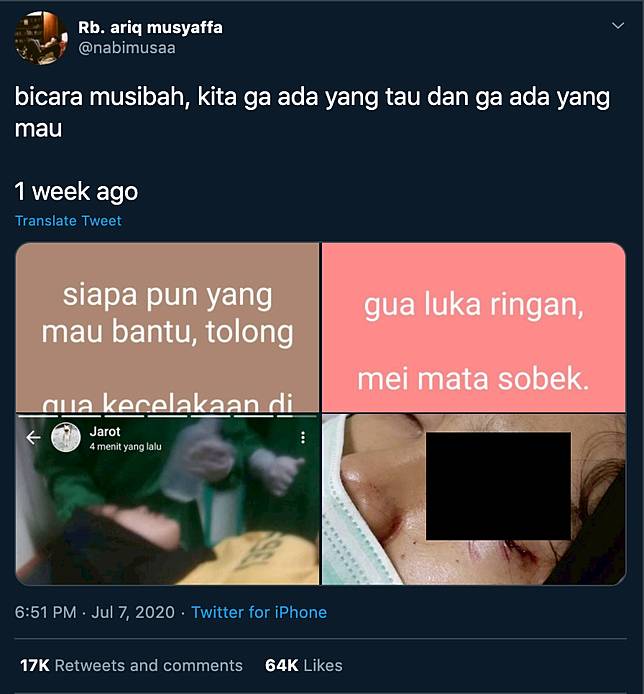 Ariq menceritakan kronologi kecelakaan tersebut. Ia dan kekasihnya, Mei, sedang berada di perjalanan pulang dari Bandung. Tiba-tiba, motor yang berada di depan Ariq mengalami pecah ban hingga terjatuh. Ariq pun ikut kaget dan tak bisa menghindari motor yang jatuh hingga akhirnya ia ikut terjatuh juga.

Ariq mengalami luka-luka, namun ia bergegas menghampiri dan memeluk Mei yang kondisinya tergeletak. "Ariq, mata aku," ucap Mei. Rupanya, mata Mei terluka dan berdarah akibat tertusuk kacamata yang ia kenakan. Beruntungnya, ada pengendara lain yang mau mengantarkan keduanya ke RSUD Cikalong Wetan.

Namun di RSUD Cikalong Wetan, mata Mei hanya dibersihkan saja karena pihak rumah sakit tidak memiliki kuasa untuk bertindak selain merujuk ke RS Mata Cicendo. Dalam perjalanan menuju ke sana, Mei kerap kali menenangkan Ariq dan berkata, "Ariq jangan nangis, aku ikhlas kok. Jangan nangis, ya." Ariq merasa tidak kuat melihat Mei yang sudah ikhlas dengan kondisi matanya.

Akhirnya, Mei harus dioperasi pengangkatan bola mata, sehingga hanya sebelah mata Mei yang berfungsi. "Cobaan ini berat banget, melibatkan banyak pihak dan membutuhkan finansial yang besar. Seharian belum tidur, belum makan, hingga akhirnya gue demam," curhat Ariq di Instastorynya.

Kondisi Mei dan Ariq saat ini sudah pulang ke Cikarang. Ia juga memberi tahu jika kornea mata Mei didonorkan kepada yang membutuhkan.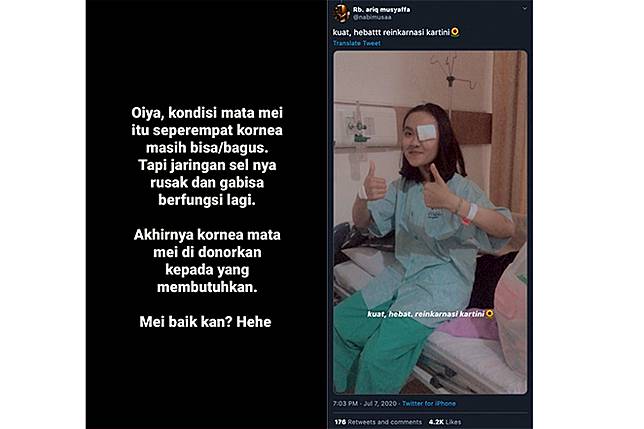 Ariq juga menyampaikan permintaan maafnya karena merasa tidak bisa menjaga Mei dengan baik. "You are a strong woman, everything will be fine and love you! (Kamu adalah wanita kuat, semua akan baik-baik saja dan aku mencintaimu."


🥺🥺 pic.twitter.com/cCBO0n7pca

— Rb. ariq musyaffa (@nabimusaa) July 7, 2020

Warganet menghujani utas tersebut dengan dukungan dan semangat kepada Mei yang ia tanggapi melalui akunnya @FrdMeila.







Gatau apa-apa taunya udah rame .
aku kuat semua kuat .
Terimakasih yang sudah mendoakan dan mensupport. Safety first . Salam dari Aku juga luphhh❤️🌻🌈 https://t.co/kuvNcki2Vn

— mls_bodo (@FrdMeila) July 8, 2020