Andika Kangen Band Tak Kaget Wajahnya 'Nempel' di Video Syur Mirip Gisel, Justru Merasa Senang

Vokalis Andika Mahesa tidak kaget wajahnya "nempel" di video syur mirip Gisel.

Hadirnya wajah Andika Kangen Band tidak lepas dari meme yang dibuat netizen di video syur mirip Gisel.

Saking seringnya jadi meme, Andika Kangen Band mengaku tak sakit hati dan justru mengucap terima kasih.

Dalam foto yang beredar, potret wajah Andika Kangen Band digabungkan dengan pemeran video syur yang disebut mirip penyanyi Gisella Anastasia.

Grup musik Kangen Band yang beranggotakan Andika, Rezka, Tama, Lim, Bebe, Izy dan Reyhan kini kembali lagi setelah sempat bubar (Tribunnews/JEPRIMA)

Foto tersebut kemudian beredar menjadi sebuah meme di sosial media hingga menjadi viral.

Menanggai meme tersebut, Andika Kangen Band santai. Ia tak mau terpancing dengan hal semacam itu.

"Dari dulu gue tuh kayak sama orang dibikin meme, kayak yang lagi ramai nih (meme wajah Andika di capture foto video mirip Gisel) terus muka-muka gue dibikin meme sama orang, gue nggak pernah ladenin," kata Andika Mahesa, saat ditemui di kawasan Kapten P Tendean, Jakarta Selatan, Selasa (1/12/2020).

Andika Kangen Band mengaku sebagai pribadi yang tak mudah sakit hati.

Bahkan ketika dirinya menjadi objek meme seperti yang sedang viral saat ini, ia menanggapinya biasa saja.

"Karena gue nambah seneng aja, terima kasih, terima kasih. Ini bakal datengin rezeki (sugesti) eh benar kan. Bersyukur aja," tutur pelantun "Yolanda" ini.

Andika Kangen Band (Wartakotalive.com/Arie Puji Waluyo)

Andika Kangen Band berprinsip apapun yang terjadi di hidupnya, ia patut bersyukur.

Sebab, jika tidak ia akan mendendam dan tak pernah ikhlas dengan cibiran netizen.

"Karena manusia ini kalau nggak bersyukur gimana mau ikhlas. Kalau kita bersyukur ditambah rezekinya," ucapnya.

"Jadi kalau ada meme , gue senang, gue alhamdulillah alhamdulillah makasih gitu," tutur Andika Kangen Band.

Memang, video syur mirip Gisel beredar dan menjadi kehebohan di media sosial.

Banyak netizen melakukan cocoklogi kemiripan antara Gisel dan wanita dalam video syur tersebut. Seperti soal baju atau pakaian.

Hasil pengamatan Coach Yudi menyoroti wajah Gisella Anastasia (YouTube Was Was)

Dalam video syur, terlihat wanita itu mengenakan baju kimono warna hijau dan kekasih Wijin ini pun pernah memakai baju serupa di bulan Maret 2019.

Hal itu pun turut dibenarkan oleh pakar telematika, Abimanyu.

"Jadi kita menggunakan data, memang ada kesamaan menggunakan bajunya," papar pakar telematika dikutip dari Youtube Intens Investigasi, Sabtu 21 November 2020.

Sementara, Gisel pun hingga kini masih jadi perbincangan dan setiap postingannya tak jarang mendapat cemooh dari netizen.

Melansir dari akun Instagram-nya, apapun yang dilakukan Gisel saat ini seolah salah saja di mata banyak orang.

Bahkan belum lama ini di tengah kasus dugaan video syurnya, Gisel kembali banjir komentar karena nekat bersepeda.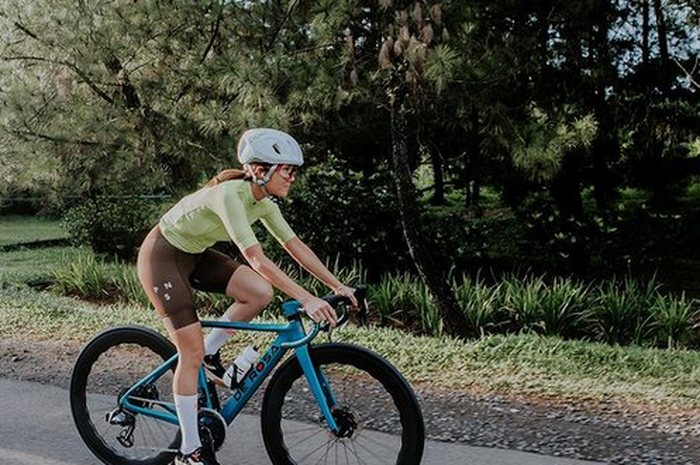 Gisel Naik Sepeda (Instagram )

Saat itu Gisel bersama rekan-rekannya bersepeda di bawah kaki gunung.

"Pertama kali nanjak ke suatu jalan naikan gitu yang udah retak-retak karena aktifitas di kaki gunung gitu ceritanya katanya. Karena kalo ke KM 0 masih belum ada nyali, latihan dulu ya tipis-tipis," kata Gisel dalam unggahan di akun Instagramnya @gisel_la.

Saat bersepeda Gisel mengaku, dirinya harus menguras tenaga yang cukup dalam saat itu.

"Sebalnya dia masih videoin loh sambil naik begitu. Napasnya biasa aja, mukanya biasa aja, sedangkan aku udah kaya mau good bye, napas udah pake napas pilates segala," tambah Gisel.

Namun, di balik rasa lelahnya tersebut Gisel mengaku mendapatkan banyak pelajaran.

"Tapi satu hal yang bisa aku belajar dari setiap proses, we just have to keep going dan menolak untuk menyerah. Selama keadaannya memungkinkan untuk lanjut, lanjut aja dulu, tanpa sadar kita hdah di atas, berterimakasih buat semua yang udah dilewatin," ungkap Gisel.

Aksi Gisel bersepeda pun mengundang banyak komentar.

"Apa-apa direkam ya bun," tulis seorang netizen.

"Oke Gisel kami akan pura-pura percaya bahwa di video itu bukan kamu," komentar netizen.

"Loh kok belum divonis?" tanya netizen.

"Kok masih bebas?" tanya netizen lain.
(suryamalang.tribunnews.com)