Melisha Kontestan Indonesian Idol 2020 Meninggal, Saudara Kembar: Bagaimana Aku Hidup Tanpamu?
Salah satu kontestan Indonesian Idol 2020, Melisha Sidabutar meninggal dunia.
Kabar meninggalnya Melisha Sidabutar ini awalnya dibagikan akun Instagram @indonesianidolid.
"Beautiful soul is never forgotten"
Keluarga besar Indonesian Idol turut berduka cita atas berpulangnya "Melisha Sidabutar" Kontestan Top 35 #IdolSpecialSeason, Rest In Peace @melishapricilla."
Melisha Sidabutar memang baru saja lolos masuk ke babak 35 besar di Indonesian Idol.
Melisha sempat mengungkapkan kebahagiaanya bisa terus melaju ke babak selanjutnya.
Sayang, Tuhan tampaknya memiliki rencana lain untuk Melisha.
Mimpinya tak terwujud setelah ia menghembuskan napas terakhirnya.
Salah satu sosok yang kehilangan Melisha adalah saudara kembarnya, Melitha Sidabutar.
Melitha Sidabutar, saudara kembar Melisha Sidabutar, mengunggah sejumlah foto kenangan bersama sang kakak di story Instagram-nya.
"She's the prettiest person i've ever met. The best persin i've ever know," tulis Melitha Sidabutar di akun Instagram-nya dikutip Kompas.com, Rabu (9/12/2020).
Melitha menyebut bahwa Melisha adalah orang yang paling ia sayang dalam hidupnya.
"Orang yang paling aku sayang. Terhebat yang pernah ku temui," tulis Melitha Sidabutar.
Tak perlu ditanya betapa terpukulnya Melitha dengan kepergian Melisha yang begitu mendadak.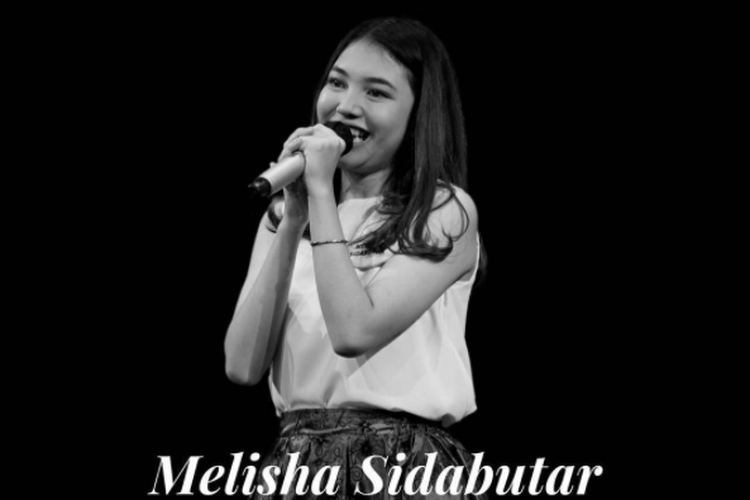 Dalam tulisan yang diselipkan, terlihat Melitha begitu mencintai sang kakak yang kini telah pergi
"I love you so much, kak. How am i supposed to live with out you kan? Tuhan Yesus sayang banget yah sama kakak," tulisnya.
"Love you. I love you, always," tulis Melitha dalam unggahan foto terakhir.
Keluarga Indonesian Idol, mulai dari para juri seperti Rossa dan Ari Lasso turut memberikan ucapan duka melalui Instagram pribadi mereka.
Host Indonesian Idol, Boy William, juga memberikan ucapan duka melalui story Instagram-nya.
Hingga kini belum diketahui penyebab Melisha Sidabutar meninggal dunia.
Namun, dilihat dari unggahan tetangga rumah Melisha, Ellysia Belinda, penyebab kepergian Melisha karena pembengkakan jantung.
Ungkapan Duka Juri Indonesian Idol
Para juri Indonesian Idol pun menyampaikan belasungkawa mereka atas meninggalnya Melisha Sidabutar.
Ungkapan duka cita tersebut mereka unggah di akun Instagram masing-masing.
"Rest in Peace dear Melisha," tulis Rossa di unggahannya.
Selain Rossa, Judika juga menyampaikan duka cita atas meninggalnya Melisha Sidabutar.
Ia bahkan mengingat momen ketika duet menyanyikan lagu Batak bersama Melisha Sidabutar saat audisi.
Judika juga mendoakan semoga keluarga diberi kekuatan dan kesabaran.
"
RIP @melishapricilla sidabutar.
.
Sempet duet lagu batak Ujuni ngolu sama Melisha waktu audisi.
.
Semoga tenang disana dan buat @melithatricia dan keluarga besar diberi kekuatan,kesabaran dan penghiburan dari TUHAN."
Ungkapan duka cita dari para netizen juga terus mengalir di akun Instagram milik gadis bernama lengkap Melisha Pricilla Sidabutar ini.
Terlebih empat hari sebelum meninggal dunia, Melisha Sidabutar sempat mengungkap rasa bahagianya lolos di babak eliminasi.
"First impression aku soal panggung eliminasi tuh "astaga gede banget" HAHAH— ini beneran!
Udah gitu digabung sama temen sebatch yang cantik-cantik & suaranya bagus-bagus sekali. Gugup sekaligus senang karena aku belajar banyak di Eliminasi 1 ini.
Tuhan Baik! Puji Tuhan aku dikasih kesempatan untuk lolos ke Eliminasi 2. Semua karna DIA.
Pastinya persaingan-pressure akan semakin intense. Aku excited menuju Eliminasi 2, walaupun pun sedih juga karena teman-teman sekloter ku judging kemarin belum bisa lolos ke tahap berikutnya. Tapi aku akan berusaha melakukan yang terbaik, termasuk untuk membanggakan teman-temanku— cc; @keikofabianisa_ @saskiaannisa @kevinsamuelmpg @adoncomes @athaya.prima @n.tanimbir
Dan tidak lupa, aku mau bilang terima kasih untuk teman-teman tersayang aku @meloved.ofc yang sudah setia mendukung aku. Q sayang kleaaann
Tungguin penampilan berikutnya dari aku dan teman-teman di Eliminasi 2 ya!
#IdolANewChapter
#IdolSpecialSeason
#IndonesianIdol
#HomeOfTheIdols
@IndonesianIdolid
@officialrcti."
(TribunNewsmaker.com/Ninda)