Pamer Koleksi Piala, Agnez Mo Beri Sindiran untuk Artis yang Suka Bikin Sensasi
Agnes Monica menjadi salah satu musisi kebangaan Indonesia yang namanya dikenal sampai kancah internasional. Tak heran dengan segudang bakatnya, perempuan yang akrab disapa Agnez Mo ini mampu meraih banyak penghargaan.

Meski banyak bermunculan musisi-musisi pendatang baru, kepopuleran Agnez seolah tak akan pernah redup. Belum lama ini, ia bahkan memamerkan koleksi piala penghargaannya yang sudah mencapai 194 buah. Hal ini dipamerkannya lewat sebuah unggahan di Instagram.

Agnez tampak mengunggah foto yang memperlihatkan satu rak penuh dengan piala penghargaan miliknya. Termasuk piala terakhir yang didapatnya baru-baru ini dalam ajang penghargaan "Kiss Awards 2020".

"#194 thank you. #AGNEZMO 🤍 too blessed to be stressed 2 days ago ur girl just won another award. Thank God! #PopFemaleSinger," tulisnya sebagai caption, Selasa (22/12).

Agnez juga menuturkan bahwa penghargaan tidak pernah menjadi tujuan hidupnya selama ini, namun Agnez bersyukur piala-piala itu bisa bersanding dengan rapi di sudut rumahnya. "They certainly make my living room shinesbrighter," kata Agnez.

Namun, ada satu caption Agnez yang langsung menjadi perhatian. Seolah curhat, Agnez berharap bahwa prestasi yang diraihnya saat ini bisa menjadi pemberitaan yang baik, ketimbang memberitakan orang-orang yang kerap mencari sensasi dengan ribut.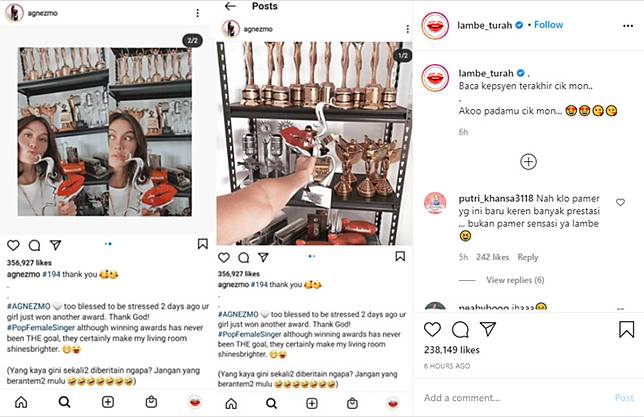 Pamer Koleksi Piala, Agnez Mo Beri Sindiran untuk Artis yang Suka Bikin Sensasi

Instagram

"Yang kaya gini sekali2 diberitain ngapa? Jangan yang berantem2 mulu," tutupnya dengan menambahkan emoticon tertawa.

Sontak postingan Agnez ini langsung mendapat respon dari netizen. Banyak dari mereka yang memberi pujian kepada penyanyi 34 tahun itu. Tak sedikit yang setuju dengan sindiran menohok Agnez ini.

"Rekor Selebriti Indonesia dengan Piala terbanyak," komentar netizen. "Artis kebanggaan indonesia yang kaya akan prestasi & no sensasi, ini nih yg patut di contoh," sahut netizen lain. "Bener nih, jangan sensasi terus," timpal lainnya. Artikel Asli