Habibie-Ainun, Seribu Kali Cinta hingga Akhir Hayat

Tak cukup satu jam bagi sosok BJ Habibie untuk menatap dan bertahlil di pusara Ainun. Seolah tak ingin membiarkan belahan jiwanya sendirian, dia kerap berlama-lama di kavling 121 Taman Makam Pahlawan Kalibata, Jakarta Selatan, pembaringan terakhir perempuan yang bernama lengkap Hasri Ainun Besari itu.

Usai membaca tahlil dan duduk di samping pusara Ainun, Habibie selalu mengalungkan tasbih di nisan.


Rutinitas itu dilakukannya setiap hari pada 100 hari pertama Ainun meninggal. Ainun meninggal pada 22 Mei 2010 di Munchen, Jerman usai berjuang melawan kanker ovarium.

Kebiasaan tersebut berlanjut seumur hidup Habibie. Setiap Jumat, dia menyapa kekasih hatinya di TMP Kalibata. Tahlil pun tak putus dilakukannya setiap hari dari rumah.

Putra sulung Presiden ke-3 RI BJ Habibie, Ilham Habibie menyebut, sang ayah adalah sosok yang setia dan sangat mencintai pujaan hatinya, Ainun.

"Bapak itu tiap hari tahlilan. Setiap hari Jumat atau lebih ke makam (Ainun) untuk berdoa," kata Ilham saat menyampaikan sambutan upacara pemakaman BJ Habibie di TMP Kalibata, Jakarta Selatan, Kamis 12 September 2019.

Menurut dia, usai ditinggal perempuan yang dinikahi pada 12 Mei 1962, Habibie hanya memiliki satu keinginan. Bersatu dalam akhirat dengan Ainun.

Kamis 12 September 2019, keinginan Habibie terwujud....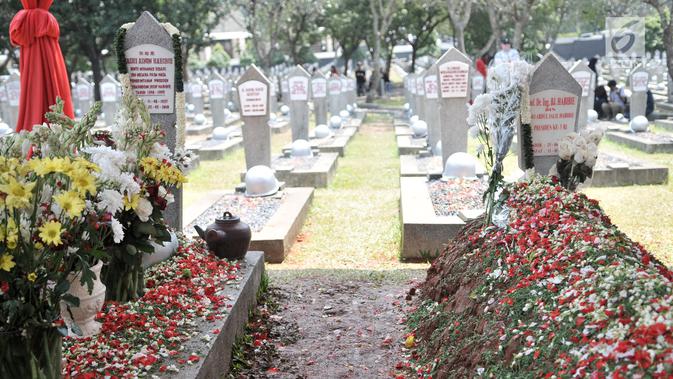 Makam Presiden ke-3 RI BJ Habibie (kanan) yang berdampingan dengan makam Ainun Habibie di TMP Kalibata, Jakarta, Minggu (15/9/2019). Sejumlah warga masih terlihat mengunjungi makam Habibie untuk berziarah. (merdeka.com/Iqbal Nugroho)

Sehari usai mengembuskan napas terakhir, Bapak Teknologi penemu crack propagation theory (teori crack) atau teori perambatan keretakan itu, dimakamkan di sisi Ainun. Tepatnya di kavling 120 TMP Kalibata.

"Mereka sekarang bisa satu, bersatu dalam akhirat, sesuatu hal yang didambakan oleh bapak semenjak ibu wafat," ucap Ilham.

"Insyaallah mudah-mudahan mereka untuk selamanya bersama berdua di sisi Allah SWT, di surga, di akhirat, di alam baka," sambung dia di pemakaman Habibie.


Pengantin Baru Selamanya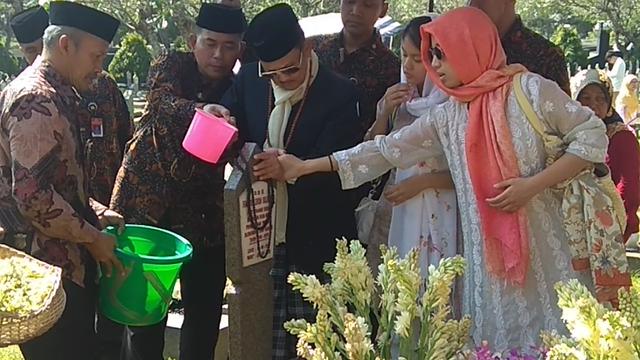 Ziarah ke Makam Ainun, Habibie Pakai Sarung dan Jas Hitam (Foto: Merdeka/Nur Habibie)


BJ Habibie dan Ainun menjadi salah satu role model yang menggambarkan sebuah kesetiaan pasangan. Banyak orang yang mendambakan kisah cinta keduanya.

Mayor Jenderal TNI (Purn) Tubagus Hasanuddin merupakan saksi kemesraan Bacharuddin Jusuf Habibie dengan sang istri Hasri Ainun Besari atau Ainun Habibie.

Kala itu, TB Hasanuddin merupakan mantan ajudan dari Presiden ke-3 RI Habibie.

Menurut dia, BJ Habibie dan Ainunmerupakan sosok yang kerap memperlihatkan keromantisan. Tubagus sendiri sampai malu melihat besarnya rasa cinta Habibie kepada Ainun.

"Saya kadang-kadang malu sebagai anak yang lebih muda saat itu, beliau (Habibie) itu seperti pengantin baru setiap hari dengan ibu Ainun," ujar Tubagus di TMP Kalibata, Jakarta Selatan, Kamis 12 September 2019.

Dia menuturkan, setiap Habibie akan bekerja, Ainun kerap berdiri di halaman depan rumah sekadar untuk melihat kepergian sang suami. Ainun pasti melambaikan tangan seiring berlalunya Habibie dari rumahnya.

"Ketika Pak Habibie pulang, Ibu Ainun sudah menunggu di depan, dan kemudian saat turun mobil, Pak Habibie dan Ibu Ainun gandengan tangan ke dalam, seperti penganti baru selamanya," kata Tubagus.

Dia juga menyebut Habibie selalu memakan makanan hasil masakan Ainun, walau tengah bekerja di Istana Kepresidenan.

"Jadi kalau makan siang, kami ambil dalam rantang yang dimasak oleh ibu, kemudian dari situ beliau menyantapnya," ucap Tubagus Hasanuddin mengenang.
3 dari 5 halaman

Teman Masa Kecil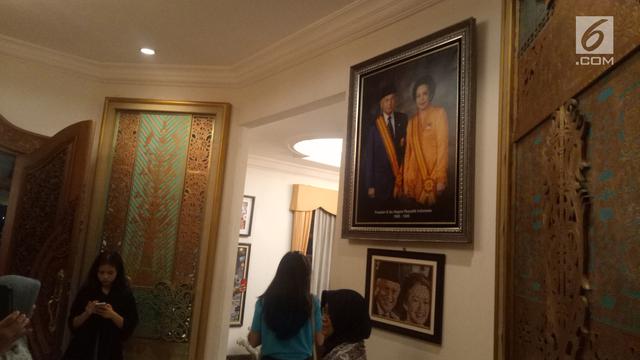 Koleksi foto dan lukisan di rumah duka Presiden ke-3 RI BJ Habibie, Patra Kuningan, Jakarta, Rabu (11/9/2019). Makam BJ Habibie bakal bersebelahan dengan sang istri tercinta, Ainun Habibie. (Liputan6.com/Angga Yuniar)


Cinta BJ Habibie dan Ainun yang begitu besar, sampai diabadikan dalam buku hingga layar lebar.

Buku The True Life of Habibie: Cerita di Balik Kesuksesan karya A Makmur Makkai mengungkap, Habibie dan Ainun sebenarnya adalah teman semasa kecil.

Mereka pernah satu sekolah. Ainun jadi adik kelas Habibie. Namun, saat itu, benih-benih cinta belum menghampiri.

Setelah terpisah benua selama kurang lebih tujuh tahun karena Habibie melanjutkan studi ke Jerman, takdir mempertemukan mereka kembali. Kali ini, Habibie melihat Ainun sebagai sosok yang berbeda, memikat.

Habibie dan Ainun menikah pada 12 Mei 1962 di Bandung. Habibie pun memboyong Ainun ke Jerman sebulan kemudian.

Menjalani suka duka kehidupan bersama, Habibie bertugas mencari nafkah, Ainun tinggal di rumah, memastikan keluarga kecilnya menjalani hidup dengan baik.
4 dari 5 halaman
Ide Perangko Habibie-Ainun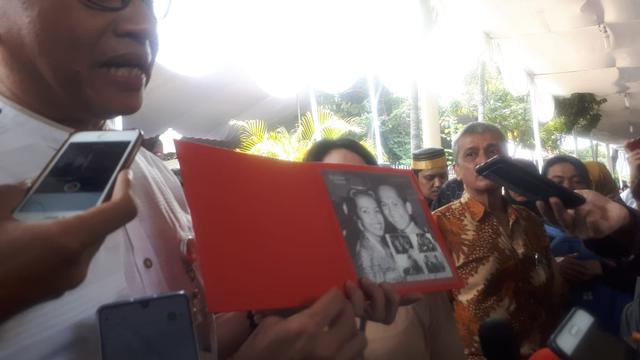 Perangko prisma ini berisi perjalanan delapan windu[ BJ Habibie dan Ainun Besari. (Foto: Liputan6/Ika Defianti)


Kisah cinta Habibie-Ainun juga diabadikan dalam "Prangko Perjalanan Cinta 8 Windu Pasangan Habibie-Ainun". Prangko ini berupa 1 lembar minisheet berisi 4 prangko yang dijual dengan harga Rp 200 ribu.

Pembuatan prangko ini memiliki cerita menarik.

Ternyata, prangko ini bermula dari ide Habibie yang berinisiatif memesan prangko prisma kepada PT Pos Indonesia. Prangko itu sengaja dipesannya untuk mengenang perjalanan cintanya bersama sang istri, Ainun.

BJ Habibie kemudian menyeleksi foto-foto pernikahan koleksi pribadi dan memutuskan desain prangko.

Rencananya, prangko tersebut diserahkan oleh PT Pos Indonesia pada Kamis 12 September 2019. Namun, pada 11 September 2019, Habibie berpulang....


**Tidak semua orang bisa dan punya kesempatan untuk bertemu dengan belahan jiwa dan saling memberikan cinta abadi hingga lanjut usia sampai maut memisahkan. Seribu Kali Cinta merupakan ungkapan tekad untuk memberikan cinta abadi kepada sang belahan jiwa.